Stowarzyszenie Kreatywni dla biznesu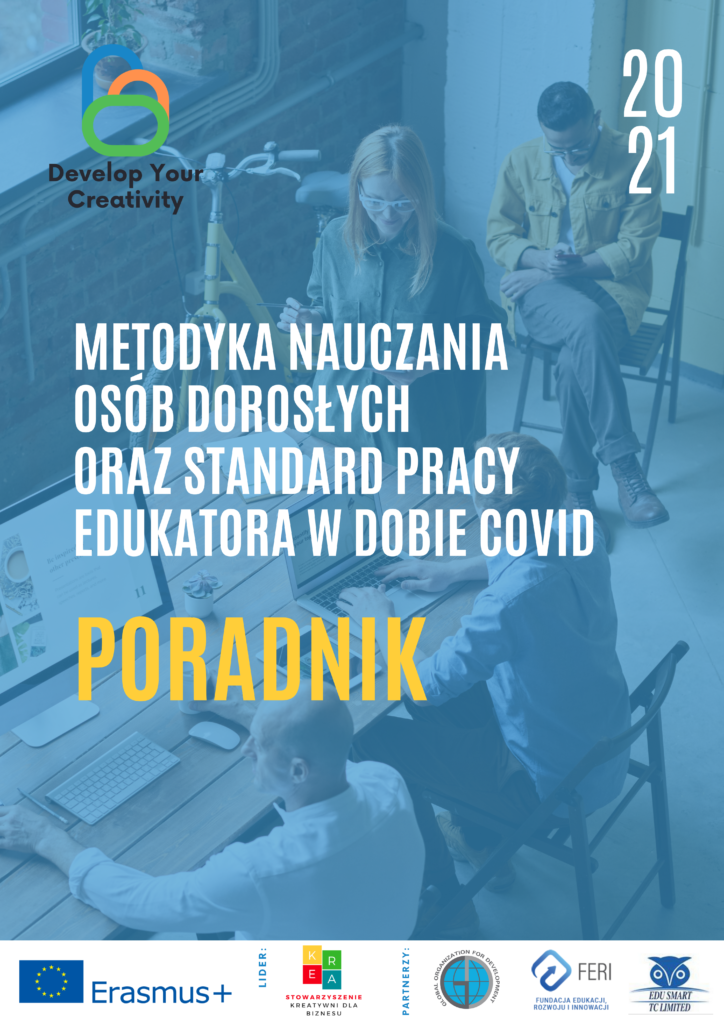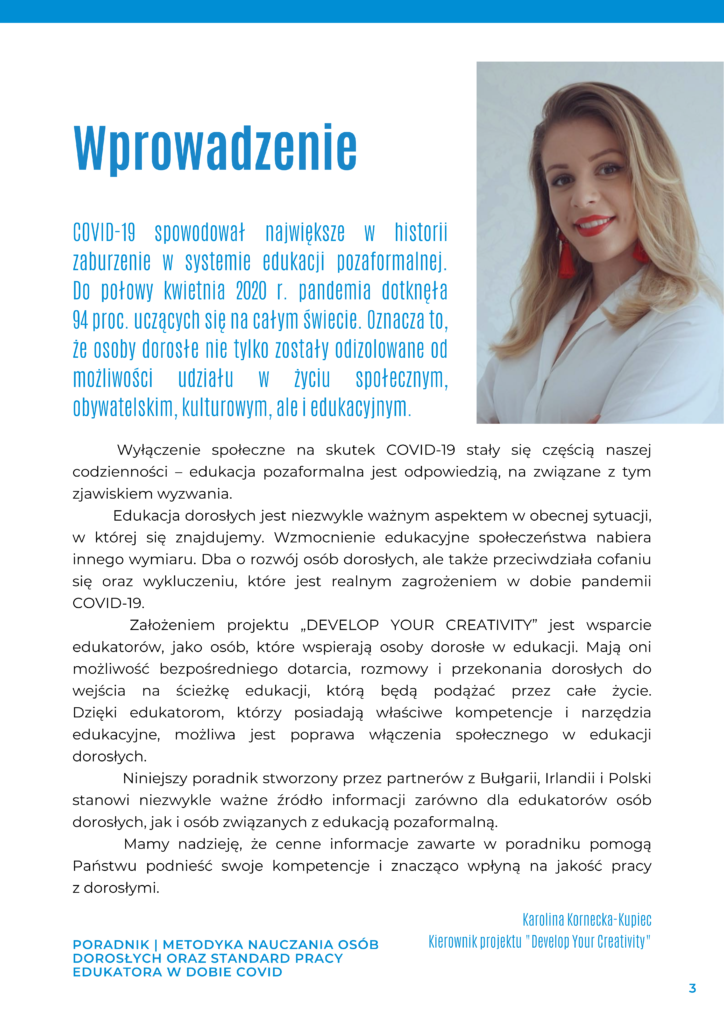 poradnik dla edukatorów osób dorosłych już gotowy!
W ramach projektu międzynarodowego "Develop your creativity"  zakończyliśmy realizację Outputu 1, w ramach którego został opracowany poradnik pn. "Metodyka nauczania osób dorosłych oraz standard pracy edukatora w dobie COVID". 📘
Vademecum zostało opracowane z myślą o edukatorach osób dorosłych i jest, między innymi, odpowiedzią na następujące pytania:
– Jakie kwalifikacje i kompetencje powinien mieć edukator w pracy zdalnej z dorosłymi?
– Jak współpracować, motywować i podtrzymywać chęć edukacji wśród osób dorosłych?
– Z jakich narzędzi i komunikatorów korzystać podczas zdalnego nauczania osób dorosłych?
Ponadto, w poradniku zostały opisane nowe zasady pracy w formie zdalnej oraz zmiany stylu pracy po pandemii  w Polsce 🇵🇱, Bułgarii🇧🇬
i Irlandii🇮🇪.
Wszystkich zainteresowanych zachęcamy do lektury, a my bierzemy się dalej do pracy, której kolejne efekty zaprezentujemy wkrótce 🙂
PORADNIK DO POBRANIA W WERSJI POLSKIEJ (PDF) [LINK]
Wkrótce dostępna będzie również angielska i bułgarska wersja językowa.
__________________
[ENGLISH VERSION]
As part of the international project "Develop your creativity", we have completed the implementation of Output 1, under which a guide entitled "Methodology of teaching adults and the standard of educator's work in the COVID era". 📘
The handbook has been developed with adult educators in mind and is, inter alia, an answer to the following questions:
– What qualifications and competences should an educator have in working remotely with adults?
– How to cooperate, motivate and maintain the willingness of education among adults?
– What tools and communicators should you use for distance learning for adults?
In addition, the guide describes the new rules of working remotely and changes in the style of work after the pandemic in Poland 🇵🇱, Bulgaria🇧🇬 and Ireland🇮🇪.
We encourage everyone who is interested to read, and we continue to work, the next results of which will be presented soon 🙂
POLISH VERSION DOWNLOAD GUIDE (PDF) [LINK]
An English and Bulgarian language version will also be available soon.
__________________
#DYC #DevelopYourCreativity #adult #education #Erasmus+ #guide for adults #education #strategic #partnership #development
#COVID-19